5
Manage your account
Clik on the link Sign up on the home page or click on the shadow in the banner then on the link To create your personal account to sign up for free. To use your Facebook account, click on the button Facebook next to the input field for your email address.
Click on tesseractor.com in the banner anywhere in the website to return to the home page or to your personal page if you are identified.
Identification
Connection
Click on the shadow in the banner of the home page or on the Connection button. Enter with your identification code or your email address and your password.
IMPORTANT: To receive a new password automatically by email, click on the link If you have forgotten your password on the identification page.
Click on the disconnect button in the banner to close your personal space and return to the home page.
NOTE: Accessing your account is automatically locked after 20 minutes of inactivity.
Your personal home page displays your identification code and your email address, your credit .
You can edit your email address and the name and the address printed on your invoices. Your identification code in 6 small letters is displayed in bold. You cannot change it.
Navigation
Use the menu bar to read the user's guide, access the configuration of your account and your invoices, to buy credit units or to contact us.
Credit
1 operation costs 1 credit. To buy credit units, click on the cart in the menu bar of your home page. The price of a credit unit decreases rapidly with the number of units bought in a single purchase:
| | | | | | | |
| --- | --- | --- | --- | --- | --- | --- |
| Credit | 1 | 10 | 1000 | 4000 | 25000 | 100000 |
| Unit | 5 € | 1 € | 10 c | 5 c | 2 c | 1 c |
| Total | 5 € | 10 € | 100 € | 200 € | 500 € | 1000 € |
VAT 17% not included.
Use the calculator

to compute your budget.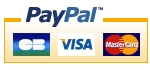 Credit units are paid on-line via PayPal. Before you can buy credit units, you will have to complete your account information with a billing name and a billing address.
Invoices
All your payments are listed on your account page. You can print your bills at any time.
Help
Press the assistance button to toggle the display of help messages.
The service inserts help messages in the content of the website. You can hide or show them at will by clicking on the question mark. You may deactivate help messages globally in the configuration of your account.
SEE ALSO